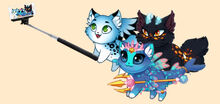 This is your user page, to provide info about yourself and/or your guild to other editors! You may provide what info you like, and style this page as you wish.

To start, you're welcome to fill out the infobox to the right and your goals and achievements! With the infobox any rows you don't wish to fill can be removed [or you can forgo the infobox entirely].
In-game Goals
Edit
Get Chroma and see celestia
In-game Achievements
Edit
Achievement #1
Achievement #2
Achievement #3
Community content is available under
CC-BY-SA
unless otherwise noted.