Jurassic World: Dominion Dominates Fandom Wikis - The Loop
Play Sound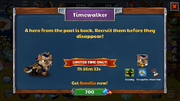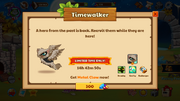 Timewalkers are heroes a player might or might not already have who appear in the guild hall and mill about with the player's guild members. They stay for 24 hours, during which time the player can purchase the cat at the usual gem price of 100 for Common heroes, 200 for Rares, and 300 for Mythics. Timewalkers are drawn from Event heroes introduced in years past, although for a time—from April, 2019, to January, 2021—Mythic Box cats were included as well. They appear roughly every three to six days on an undisclosed schedule, although they are sometimes announced by the developaws on their social media accounts the day before their visit.
Following is a reverse chronological list of the heroes who have appeared as Timewalkers from the feature's initial release; it is updated regularly as new ones become known. Where differences occur, the version numbers in superscript denote which version got that Timewalker on that date. All dates are in mm/dd/yy format and are based on local time, that is, not linked to any particular time zone.
2022
[
]
2021
[
]
2020
[
]
2019
[
]
2018
[
]
2017
[
]
Trivia
[
]
Shen and the Celebrity Heroes from the Charity events are the only cats of the relevant types who do not appear as Timewalkers.

Of Shen, the developaws have said they want to "exclude him from the timewalker-system a little bit longer, keeping him exclusive to those who purchased him."[2]
The celebrity heroes have only ever been available as real-money purchases as their likenesses are owned by others from whom they have been licensed for use in the game.

Timewalkers, who are surrounded by a yellow-gold aura while in the guild hall, disappear once purchased, so they can only be purchased once per visit.
If unpurchased at the end of its 24-hour visit, the Timewalker will disappear at that point. However, if the purchase window is open at that time it will stay open, although it is unclear what would happen if a purchase was attempted in that case.
When originally introduced, Timewalkers did not wander around the guild hall but were rather offered only at startup; the game had to be relaunched in order to see the offer again.
Originally there was no confirmation window after first tapping on the purchase button, so if you accidentally tapped on that button, your gems were toast!
When the guild hall is loading, the placeholder for the countdown under the Timewalker is "NEW!".
When Angel (Festival) first appeared as a Timewalker in January, 2018, many players were confused as she had the same name as Angel the Rare Box cat (and is in fact the same cat in a different costume).
On June 25, 2018, some players saw Pumpy as the Timewalker and others Kenshin. This was due to a coding difference in the Timewalker system between version 2.0 and version 2.0.1. Players who did not (or, in the case of iOS users, could not) upgrade their game to 2.0.1 observed Pumpy as the Timewalker on that day.
On January 22, 2020, Agatha became the first Merge Alchemy cat to be a Timewalker.
References
[
]