Mind the mess!
This page is either currently being created, waiting to be populated with information and/or data, or is in the process of an overhaul. Please bear with us as we work to complete it and/or feel free to add any known information where you can.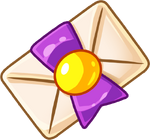 Missions were introduced in April, 2019, with version 2.5.1. They offer small rewards for meeting objectives involving normal gameplay and appear, three at a time, under the purple pop-out banner on the right side of the guild hall screen. When a mission is completed and the prize claimed, a new mission is added to the list. Players can skip one mission per day. The cycle proceeds continuously until the final mission, "Reach Guild Level 200", appears and no new ones are added (although the purple banner remains on screen).
Missions and Rewards
[
]
This is just a sample (not a complete list) of the possible missions and rewards.

This list does not include the tutorial awards given through the missions system.

For "Defeat x EnemyType in Battle", click [Expand] for the complete list of quests.
Mission
Reward
Dungeon Runs

Defeat 3-4 Enemies in Battle
500 Gold
Defeat 5-100 Enemies in Battle
1000 Gold

Defeat 30 Dragons in Battle
1000 Gold
Defeat 45 Dragons in Battle
3 Red Ember

Dragons can be found in these quests:

(Lvl 10) Brutal Basilisk, Crystal Sea, Dragon Den, Endless Dungeon, Hybrid Hydra, Monster Mountain, Vicious Viper, Watchtower
(Lvl 9) Corrupt Cove, Dungeon Crawl, Magic Cove, Old Tower, Ravenous Rampart, Vicious Valley

(Lvl 8) Catnip Island, Crystal Cove, Devilish Dungeon, Epic Adventure, Trial of Fire
(Lvl 7) Crystal Cave, Crystal Cove
(Lvl 6) Brutal Basilisk, Crystal Cave
(Lvl 5) Dungeon Crawl
(Lvl 4) Catacombs, Endless Dungeon

Defeat 20-30 Tree Monsters in Battle
1000 Gold
Defeat 45 Tree Monsters in Battle
3 Green Ember

Ents (tree monsters) can be found in:

(Lvl 10) Deep Woods
(Lvl 9) Haunted Home, Laverous Lake, Sorrow Swamps

(Lvl 8) Chaos Swamp, Sorcerer's Landing, Wild Hunt Safari
(Lvl 7) Chaos Swamp, The Cavern, Wild Hunt Safari
(Lvl 6) Deep Woods, Forest Mission
(Lvl 5) Ancient City, Deep Woods, Forest Mission, Magic Labyrinth
(Lvl 4) Forest Lands, Sorcerer's Landing
(Lvl 3) Crystal Palace, Forest Lands, River of Death
(Lvl 2) Dark Forest
(Lvl 1) Dark Forest, Malicious Maze, Training Course

Defeat 30 Tigers in Battle
1000 Gold
Defeat 35 Tigers in Battle
300 Metal

Tigers can be found in these quests:

(Lvl 10) Time Travel
(Lvl 9) Ancient City, Dog War, Lethal Labyrinth, Magic Labyrinth

(Lvl 8) Divine Devotion, Floating Cheese, In the Clouds, Purr Lake
(Lvl 7) Catnip Island, Dark Forest, Floating Cheese, Purr Lake
(Lvl 6) Magic Cove
(Lvl 5) Magic Cove
(Lvl 4) Blue River, Haunted Lake, Purr Lake, The Cavern
(Lvl 3) Blue River, Haunted Lake, The Cavern
(Lvl 2) Golden Heroes, Hope Heroes, Ravenous Rampart, Town Mines
(Lvl 1) Corrupt Cove, Deep Woods, High Grass, Purr Pool, Town Mines

Defeat 30 Wolves in Battle
1000 Gold
Defeat 35 Wolves in Battle
300 Wood

Wolves can be found in these quests:

(Lvl 10) Cataclysm Cove, Furious Fiends, Mineral Mine, Mountain Hills, Perilous Pendant
(Lvl 9) Creepy Cove, Hope Heroes, Malicious Maze, Sushi River

(Lvl 8) Highgrounds, Ninja Hideout, Tower Attack
(Lvl 7) Crystal Palace, Highgrounds, Ninja Hideout, Tower Attack
(Lvl 6) Cataclysm Cove, Dog Hunting, Dog War, Furious Fiends, Hybrid Hydra
(Lvl 5) Creepy Cove, Dog Hunting, Dog War, Haunted Home
(Lvl 4) Rescue Mission, Ring of Stones, Secret Cove
(Lvl 3) Highgrounds, Ring of Stones, Secret Cove
(Lvl 2) Castle Attack, Forest Cave, Fortress Invasion, King's Guardian, Town Alley, Town Patrol, Town Wall
(Lvl 1) Forest Cave, Green Fields, Royal Clash, Town Alley, Town Patrol, Town Wall, Yarn Town

Defeat 20-30 Zombies in Battle
1000 Gold
Defeat 35 Zombies in Battle
300 Cloth

Zombies can be found in these quests:

(Lvl 10) Citizens of Catania, Pug Pandemic, Town Wall
(Lvl 9) Pool of Plague, Purr Pool, Toxic Tower, Yarn Town

(Lvl 8) Material Hunt, Pugatory Rescue, River of Death, The Inn, Toxic Trials, Unholy Union
(Lvl 7) Devilish Grounds, Grass Labyrinth, Pugo's Minion, River of Death, The Inn
(Lvl 6) Almighty Arc, Dungeon Crawl, In the Clouds, Mice Trap, Rescue Mission, Sorrow Swamps
(Lvl 5) In the Clouds, Laverous Lake, Mice Trap, Rescue Mission, Sorrow Swamps
(Lvl 4) Grass Labyrinth, Mice Hunt, Rat Attack, Toxic Trials, Unholy Union, Wild Hunt Safari
(Lvl 3) Catacombs, Chaos Swamp, Endless Dungeon, Grass Labyrinth, Mice Hunt, Ninja Hideout, Pugo's Minions, Rat Attack, The Inn
(Lvl 2) Mineral Mine, Sorrow Swamps, Watchtower
(Lvl 1) Mineral Mine, Rat Problem, Vicious Valley, Watchtower

Resources

Collect 5-25 or 100-150 Gems
1000 Gold
Collect 5-50 Gems
1 Gem

Spend 5-300 Gems
1000 Gold

Collect 1000-500000 Gold
500-1000 Gold

Spend 50000-200000 Gold
1000 Gold

Collect 20-100 Metal
20-100 Metal
Collect 500 Metal
1000 Gold
Collect 450 Metal
300 Wood

Spend 100-150-200-250-300 Metal
50-75-100-125-150 Metal
Spend 400-500 Metal
200 Metal
Spend 300 Metal
1000 Gold

Collect 20-100 Wood
20-100 Wood
Collect 200-500 Wood
1000 Gold
Collect 450 Wood
300 Cloth

Spend 100-200-300 Wood
50-100-150 Wood
Spend 400-500 Wood
200 Wood
Spend 300 Wood
1000 Gold

Collect 20-100 Cloth
20-100 Cloth
Collect 500 Cloth
1000 Gold
Collect 450 Cloth
300 Metal

Spend 100-200-300 Cloth
50-100-150 Cloth
Spend 400-500 Cloth
200 Cloth
Spend 300 Cloth
1000 Gold

Collect 1 Gold Nuggets
1 Gold Nugget
Collect 6-20 Gold Nuggets
1 Red Ember
Collect 9 Gold Nuggets
2 Rare Red Embers

Collect 1-12 Oldwood
1 Green Ember
Collect 6 Oldwood
1000 Gold

Collect 1 Silk
1 Silk
Collect 6-12 Silk
1 Blue Ember
Collect 6 Silk
1000 Gold

Collect 2-3 Red Common Embers
1-2 Red Ember
Collect 10 Red Common Embers
1000 Gold

Collect 2-3 Green Common Embers
1-2 Green Ember
Collect 50 Green Common Embers
3 Green Rare Ember
Collect 10 Green Common Embers
1000 Gold

Collect 2-3 Blue Common Embers
1-2 Blue Ember
Collect 10 Blue Common Embers
1000 Gold

Collect 1-50 Red Rare Embers
2-5 Red Ember
Collect 9 Red Rare Embers


2 Gold Nuggets
3 Mighty Lions Tokens
Collect 6 Red Rare Embers
1000 Gold

Collect 1-40 Green Rare Embers
2-5 Green Ember
Collect 9 Green Rare Embers


2 Oldwood
3 Whiskers Tokens
Collect 6 Green Rare Embers
1000 Gold

Collect 1-50 Blue Rare Embers
2-5 Blue Ember
Collect 6 Blue Rare Embers
1000 Gold
Collect 9 Blue Rare Embers
3 Zenpaws Tokens
Reputation

Reach Reputation Level 2-30 with the Whiskers
7 Whiskers Tokens

Reach Reputation Level 2-30 with the Mighty Lions
7 Mighty Lions Tokens

Reach Reputation Level 2-30 with the Zenpaws
7 Zenpaws Tokens

Collect 1-5 Reputation Tokens for the Whiskers
7 Whiskers Tokens

Collect 1-5 Reputation Tokens for the Mighty Lions
7 Mighty Lions Tokens

Collect 1-5 Reputation Tokens for the Zenpaws
7 Zenpaws Tokens
Quests

Complete 3 Main Story Quests
1 Green Ember
Complete 4-5 Main Story Quests
500-1000 Gold

Complete 4-10 Normal Quests
500 Gold
Complete 10-100 Normal Quests
1000 Gold
Complete 30 Normal Quests
1200 Gold
Complete 45 Normal Quests


1500 Gold
1 Rare Ticket

Complete 1 Daily Quests
500 Gold
Complete 4-5 Daily Quests
1 Gem
Alchemy

Complete 1 Craftings in Alchemy
1 Red Ember
Complete 4-20 Craftings in Alchemy
500 Gold
Complete 5 Craftings in Alchemy
750 Gold
Complete 10 Craftings in Alchemy
1000 Gold
Complete 15 Craftings in Alchemy
3 Blue Embers

Craft 1 Eggs in Alchemy
1000 Gold
Heroes

Evolve Heroes 3 times
3 Blue Ember
Evolve Heroes 5-50 times
1000 Gold
Evolve Heroes 15 times



2 Red Rare Embers
2 Green Rare Embers
2 Blue Rare Embers
Get one Hero to Level 5
1 Red Ember
Get one Hero to Level 10
1 Gem
Levelup 10-15 Heroes
1000-1500 Gold
Levelup 15 Heroes
1 Common Ticket

Recruit 1 Common Heroes
500 Gold
Recruit 1-5 Common Heroes
1 Gem
Recruit 3-20 Common Heroes
1000 Gold
Recruit 12 Common Heroes
1200 Gold
Recruit 15 Common Heroes
1500 Gold

Recruit 1, 2(except first time) 6, 8 or 10 Rare Heroes
1000 Gold
Recruit 2(first time) or 5 Rare Heroes
1 Gem

Recruit 1 Mythic Heroes
1000 Gold
Recruit 1-2 Mythic Heroes
1 Gem
Recruit 5 Mythic Heroes
5 Gems
Upgrades

Upgrade Fortress to Level 3-5
1 Common Ticket
Upgrade Fortress to Level 6-7
1 Rare Ticket
Upgrade Fortress to Level 8
1 Mythic Ticket

Upgrade Metal Station to Level 2-3 & 5-9
1 Gold Nugget
Upgrade Metal Station to Level 4
200 Metal
Upgrade Metal Station to Level 10
2 Gold Nuggets

Upgrade Wood Station to Level 2-3 & 8-10
1 Oldwood
Upgrade Wood Station to Level 4
200 Wood
Upgrade Wood Station to Level 10
2 Oldwood

Upgrade Cloth Station to Level 4
200 Cloth
Upgrade Cloth Station to Level 2-3 & 8-10
1 Silk

Upgrade Questboard to Level 2
500 Gold
Upgrade Questboard to Level 3-5
1000 Gold
Other

Play mini-games 1 times
1 Gem
Play mini-games 3-5 times
500-1000 Gold
Play Mini-games 8 times
1500 Gold

Reach Guild Level 4
1000 Gold
Reach Guild Level 8
1 Rare Red Ember
Reach Guild Level 5-95 (increments per 5) & 105-195 (per 10 levels) & 12
1 Gem
Reach Guild Level 100 & 150 & 200
5 Gems
Reach Guild Level 110-140 & 160-190 (per 10 levels)
2 Gems
Collect 100000 Guild XP
1000 Gold