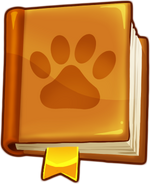 The Castle Cats in-game Hero Book, also known as the Catalog, is a compendium of all of the heroes in the game. As heroes are recruited into the guild, their Hero Book entries are unlocked, revealing their images and descriptions. It is accessed by tapping the brown book icon at the top of the guild hall screen. Following are more details about using the book and a table listing the heroes and their various attributes.
Overview
[
]
When first opened, the Hero Book displays an index of sorts with eight cats per screen; the screens can be advanced using the arrow buttons on the sides. Cats that have already been recruited into the guild are shown at their highest unlocked rank, even if they have been dismissed. Unrecruited cats are shown only in silhouette of their Rank 4 outfit, and their nameplates read "???".
Bookmark Filters
[
]
Bookmarks along the bottom of the index screens can be used to filter on various types of heroes, as follows.
| Bookmark | Types of Heroes Displayed |
| --- | --- |
| | Common Box cats and Daily Rewards cats |
| | Rare Box cats and Daily Rewards cats as well as one Rare special reward cat |
| | Mythic Box cats, Mythic and Legendary Daily Rewards cats, and four Legendary special reward cats |
| | Common, Rare, Mythic and Legendary non-event Alchemy cats |
| | Common, Rare and Mythic Event cats and Celebrity cats |
| | All heroes |
Purchasing Heroes
[
]
Box heroes, whether locked or unlocked, can be purchased directly from the Hero Book at the following prices: 30 gems for Common cats; 90 gems for Rare cats; and 300 gems for Mythics. Common and Rare Daily Rewards cats, also called "calendar cats", can be purchased at the same gem prices only if they have already been acquired, for purposes of replacing a dismissed cat or obtaining duplicates. Mythic calendar cats can only be bought, for 300 gems each, for the purpose of replacement; that is, a player can only have one copy at a time of each the Mythic calendar cats. Legendary heroes, Alchemy cats, and Event cats cannot be acquired from the Hero Book.
Hero Pages
[
]
Tapping a cat on an overview page opens its description page. Here again, pages for cats who have not yet been collected show only a Rank 4 image in silhouette, and a description reading, "Recruit this Hero to learn more about it." Already recruited cats are shown at their highest unlocked rank by default, and images of other unlocked ranks can be viewed using the arrow buttons. A few cats have multiple rank-dependent descriptions, which are also revealed while scrolling with the arrow buttons. Note that even if a cat has been dismissed, its Hero Book entry and highest attained rank remain unlocked. Some cats' pages also include images of them wearing any Hero Outfits that have been acquired, displayed to the right of the final rank image. The cat's attributes are shown along the bottom of the page and its description at top right.
Hero List
[
]
Much of the information in the Hero Book, as well as a note about how each hero can be recruited, is compiled below into a sortable table, current as of version 3.6. Each listing has a link to a dedicated article that includes a picture of the cat's fully unlocked Hero Book page as well as images of each of the cat's ranks.