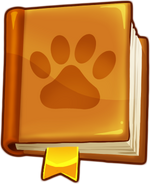 This page shows a list of all of the cats currently available in-game [Update Version: 2.12.1].
The Book
Edit
Overview
Edit
Cats that you own are automatically shown at the highest Rank you have unlocked, but you can look at their other rank appearances using the arrows. Cats that you have yet to unlock are shown as a silhouette of their Rank 4 costume with the nameplate reading "???" and their description reading "Recruit this Hero to learn more about it.".
Unlocking
Edit
To unlock and collect some of the cats, you can purchase the Boxes from the shop to get a randomized kitty, but you can also unlock any Non-Event, Non-Restricted cat, and any (Non-Mythic) Calendar Cat that you've already unlocked, at any time using a number of gems:
| | |
| --- | --- |
| Common | 30 |
| Rare | 90 |
Certain cats, however, have specific things that must be done to unlock them, and some will only be able to be acquired during their event.
If you dismiss a Mythic Calendar cat you can rebuy them once for 150

.
The in-game Hero Book has bookmarks that allow you to view your cats by: Non-Event Common only, Non-Event Rare only, Non-Event Mythic only, Non-event Alchemy only, Event only, or All. It should be noted that the login cats are included in their rarity-only tabs, despite the non-standard method of acquiring them.
The List
Edit
Number
Name
Rarity
Unlock Method
Restricted?
First Skill
Second Skill
Trait
1
Conan
Play Tutorial
No
2
Catniss
Play Tutorial
No
3
Francis
Play Tutorial
No
4
Juliet
Common Box
No
5
Romeo
Common Box
No
6
Leonard
Common Box
No
7
Bob
Common Box
No
8
Robin
Common Box
No
9
Mewton
Common Box
No
10
Edward
Common Box
No
11
Purrcilla
Start the Game
No
12
Curio
Common Box
No
13
Mochi
Common Box
No
14
Dango
Common Box
No
15
Yangnyan
Common Box
No
16
Benedict
Common Box
No
17
Dory
Common Box
No
18
Courage
Common Box
No
19
Kyle
Calendar
Until Unlocked
20
Frieda
Common Box
No
21
Hood
Calendar
Until Unlocked
22
Mawizinea
Common Box
No
23
Snooze
Common Box
No
24
Edna
Common Box
No
25
Angel
Rare Box
No
26
Dovah
Rare Box
No
27
Thor
Rare Box
No
28
Molotov
Rare Box
No
29
Grubb
Rare Box
No
30
Kai
Rare Box
No
31
Barry
Rare Box
No
32
Pipsqueak
Rare Box
No
33
Scarlet
Rare Box
No
34
Beans
Calendar
Until Unlocked
35
Blink
Calendar
Until Unlocked
36
Mego
Calendar
Until Unlocked
37
Pink
Calendar
Until Unlocked
38
Minty Heart
Friend Invite
Until Unlocked
39
Copper
Calendar
Until Unlocked
40
Maximus
Rare Box
No
41
Lois
Calendar
Until Unlocked
42
Alice
Rare Box
No
43
Samūm
Rare Box
No
44
Chief
Rare Box
No
45
Tea-Rex
Rare Box
No
46
Coco
Rare Box
No
47
Luna Sparkle
Mythic Box
Yes
48
Nyadra
Mythic Box
Yes
49
Boulder
Mythic Box
Yes
50
Oakenpaw
Mythic Box
Yes
51
Howard
Mythic Box
Yes
52
Bunny
Mythic Box
Yes
53
Navi
Mythic Box
Yes
54
Redmane
Mythic Box
Yes
55
Murrlin
Mythic Box
Yes
56
Nessie
Calendar
Yes
57
Megara
Calendar
Yes
58
Bloom
Calendar
Yes
59
Sibuna
Mythic Box
Yes
60
Selene
Calendar
Yes
61
Cassandra
Mythic Box
Yes
62
Azure
Mythic Box
Yes
63
Morrigan
Mythic Box
Yes
64
Halley
Mythic Box
Yes
65
Cleo
Mythic Box
Yes
66
Lumoz
Mythic Box
Yes
67
Thena
Lions' Rep Chest
Yes
68
Sting
Whiskers' Rep Chest
Yes
69
Jade
Zenpaws' Rep Chest
Yes
70
Celestia
Calendar
Yes
71
Chloe
Quest 117 of the Main Quest
Yes
72
Stitch
Alchemy
Yes
73
Flailtail
Alchemy
Yes
74
Cupcake
Alchemy
Yes
75
Hoshi
Alchemy
Yes
76
Stark
Alchemy
Yes
77
Newt
Alchemy
Yes
78
Khoshek
Alchemy
Yes
79
Capri
Alchemy
Yes
80
Chroma
Alchemy
Yes
81
Nicole
Alchemy
Yes
82
Eira
Alchemy
Yes
83
Gatsby
Rare Box During Event
Yes
84
Eve
Rare Box During Event
Yes
85
Jadis
Purchase During Event
Yes
86
Rocket
Purchase During Event
Yes
87
Olivia
Purchase During Event
Yes
88
Purrcis
Alchemy During Event
Yes
89
Julio
Alchemy During Event
Yes
90
Gordon
Purchase During Event
Yes
91
Oakenbeard
Alchemy During Event
Yes
92
Gruna Barkle
Alchemy During Event
Yes
93
Angdra
Alchemy During Event
Yes
94
Azel
Alchemy During Event
Yes
95
Ash
Alchemy During Event
Yes
96
Amortina
Purchase During Event
Yes
97
Charmer
Purchase During Event
Yes
98
Venus
Purchase During Event
Yes
99
Rich
Purchase During Event
Yes
100
Lou
Purchase During Event
Yes
101
Berry
Purchase During Event
Yes
102
Shirley
Purchase During Event
Yes
103
Chi
Alchemy During Event
Yes
104
Tufu
Alchemy During Event
Yes
105
Shen
Purchase During Event
Yes
106
Xiao Hui
Purchase During Event
Yes
107
Bob
Purchase During Event
Yes
108
Curio
Purchase During Event
Yes
109
Angel
Alchemy During Event
Yes
110
Emma
Alchemy During Event
Yes
111
Hen
Alchemy During Event
Yes
112
Cluck Norris
Alchemy During Event
Yes
113
Florinda
Alchemy During Event
Yes
114
Flower
Alchemy During Event
Yes
115
Cosette
Alchemy During Event
Yes
116
Eric
Alchemy During Event
Yes
117
Florence
Alchemy During Event
Yes
118
Hop
Purchase During Event
Yes
119
Nolan
Purchase During Event
Yes
120
Baz
Purchase During Event
Yes
121
Tefiti
Purchase During Event
Yes
122
Tekah
Purchase During Event
Yes
123
Renée
Purchase During Event
Yes
124
Logan
Purchase During Event
Yes
125
June
Purchase During Event
Yes
126
Wendy
Purchase During Event
Yes
127
Yarngirl
Alchemy During Event
Yes
128
Dash
Alchemy During Event
Yes
129
Stormcloud
Alchemy During Event
Yes
130
Tigerbat
Alchemy During Event
Yes
131
Magic Mia
Alchemy During Event
Yes
132
Justicecat
Purchase During Event
Yes
133
Metal Claw
Purchase During Event
Yes
134
Iko.N
Purchase During Event
Yes
135
Red Robin
Purchase During Event
Yes
136
Mequa
Purchase During Event
Yes
137
Dorothy
Purchase During Event
Yes
138
Saito
Purchase During Event
Yes
139
Sandra
Alchemy During Event
Yes
140
Amelia
Alchemy During Event
Yes
141
Keiko
Alchemy During Event
Yes
142
Clarkii
Alchemy During Event
Yes
143
Wetbeard
Purchase During Event
Yes
144
Harbour
Purchase During Event
Yes
145
Starsky
Purchase During Event
Yes
146
Jason
Alchemy During Event
Yes
147
Agatha
Alchemy During Event
Yes
148
Dio
Alchemy During Event
Yes
149
Basil
Purchase During Event
Yes
150
Minerva
Purchase During Event
Yes
151
Calli
Purchase During Event
Yes
152
Meowstein
Alchemy During Event
Yes
153
Anna
Alchemy During Event
Yes
154
Bill
Alchemy During Event
Yes
155
Phantom
Alchemy During Event
Yes
156
Paytone
Alchemy During Event
Yes
157
Kittysticks
Alchemy During Event
Yes
158
White Widow
Alchemy During Event
Yes
159
Ferdinand
Alchemy During Event
Yes
160
Lagoon
Alchemy During Event
Yes
161
Sabrina
Rare Box During Event
Yes
162
Pumpy
Purchase During Event
Yes
163
Jörgen
Purchase During Event
Yes
164
Rose
Purchase During Event
Yes
165
Silver
Purchase During Event
Yes
166
Night Queen
Purchase During Event
Yes
167
Hilda
Purchase During Event
Yes
168
Harvey
Purchase During Event
Yes
169
Lucy
Purchase During Event
Yes
170
Adriel
Purchase During Event
Yes
171
Surana
Purchase During Event
Yes
172
Marie
Purchase During Event
Yes
173
Tom Snow
Alchemy During Event
Yes
174
Ginger
Alchemy During Event
Yes
175
Rudolph
Rare Box During Event
Yes
176
Frosty
Alchemy During Event
Yes
177
Snowball
Alchemy During Event
Yes
178
Peanut
Alchemy During Event
Yes
179
Eych Tu-o
Alchemy During Event
Yes
180
Leesi
Alchemy During Event
Yes
181
Holly
Alchemy During Event
Yes
182
Gale
Alchemy During Event
Yes
183
Pete
Purchase During Event
Yes
184
Santa Paws
Purchase During Event
Yes
185
Sandy Claws
Purchase During Event
Yes
186
Nicholas
Purchase During Event
Yes
187
Alfie
Purchase During Event
Yes
188
Lisa
Purchase During Event
Yes
189
Charlie
Purchase During Event
Yes
190
Mrs Paws
Purchase During Event
Yes
191
Angela
Purchase During Event
Yes
192
Lumi
Purchase During Event
Yes
193
Boreal
Purchase During Event
Yes
194
Cleia
Purchase During Event
Yes
195
Knightniss
Purchase During Event
Yes
196
Francine
Purchase During Event
Yes
197
Kenshin