Avatar Customization was introduced in Castle Cats in July, 2017, with version 1.5.[1] It allows players to equip their feline avatars with items that can be acquired in various ways: in particular, new players unlock many items while leveling up, and events introduce new items that can be purchased with event materials earned from quests. Several different features of the guild leader cat can be customized, including face, fur pattern and tail, outfit, weapon, and pet or accessory. Following are more details about customization and tables of images of every guild leader item that is or was available in the game.
Customizations
[
]
Tapping the circular image of the guild leader in the top left of the guild hall screen opens the Player Profile, a guild or guild leader status screen that is otherwise detailed in the Guild article. Players can modify their avatars' dialog here and open the guild leader customization screen by tapping the "Customize" button.
Quotes
[
]
The guild leader has three default quotes:
"I'm the Guild Leader."
"We need more Heroes."
"Let's do Quests."
Players can customize these lines as they wish, but are limited to 99–100 characters per quote. Even within the limit, longer quotes appear quite small in the guild leader's speech bubble. Also note that some characters are disallowed, such as quotation marks, and will either not appear in the saved text or cause it to revert to the default quote.
Name
[
]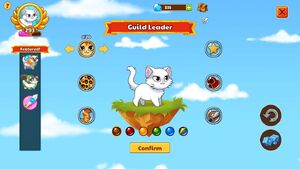 Moving to the guild leader customization screen, players can tap the quill icon to the right of the red banner and rename their guild leader as desired, using up to 20 characters. As with the quotes, however, some characters cannot be used in names.
Appearance
[
]
On the remainder of this screen players can choose among the items they have collected to give their guild leaders unique looks. Upon opening the screen, the guild leader is shown in its currently equipped state. Along either side of the avatar image are buttons representing the six features of the cat that can be customized. Tapping one will bring up arrow buttons for scrolling through the available items associated with that feature. Many items have multiple color choices indicated with buttons just below the image. Starting at top left and going counterclockwise, the buttons apply to the following features: eyes and facial expression, fur pattern, tail shape, weapon, outfit, and "extras", including pets, plushies and other accessories and embellishments. Note that tail shapes are associated with particular fur patterns, many of which offer only one tail choice.
Many items have multiple variants indicated by a row of buttons just below the image. There are ten different color designations that always appear in a particular order, as shown in the table below. The table also shows the abbreviations used for the colors throughout the remainder of this article.
Guild Leader Customization Color Designations
Black
Gray
White
Brown
Red
Yellow/
Orange
Green
Blue
Pink/
Purple
Multi
BK
GY
WH
BR
R
Y
GN
BL
P
MU
Once the guild leader image is equipped as desired, changes must be saved by tapping the "Confirm" button. While experimenting with different looks, the image can be reverted to the guild leader's currently saved state at any time by tapping the button with the circular arrow icon, at the lower right of the screen. The dice button just below randomizes but does not save the avatar's appearance.
Guild Level Unlock Pieces
[
]
The following items are either available at the outset of the game or are acquired as Guild level-up rewards.
Faces
Heroic Face
Feminine Face
Unamused Male Face
Silly Face
Sly Face
Smirky Face
Unamused Female Face
Winking Face
Fur Patterns
Solid
(An additional variant
was available in the
Valentine Event 2018)
Matching Stripes
Patched Stripes
Bicolor
Calico
Ragdoll
Freckled
Siamese
Leopard

Red Panda
Tails
Long
Fluffy
Short
Extras
Snail
Hamster
Aura
Mini Chroma
Outfits
Squire
Rogue
Hooded Robe
Fancy Dress
Furry Cloak
Spiritualist
Ornithopter
Weapons
Sword
Bow
Magical Staff

Bo Staff
Katana
Crossbow

Maul
Direct Purchase Pieces
[
]
These items can be purchased with gems at any time directly on the guild leader customization screen.
Faces
Fur Patterns
Extras
Robot Eyes
25 gems each
Wilderness Stripes
200 gems each
Dragon
200 gems each

Outfits
Butterfly Wings
200 gems each
Martial Artist
200 gems each
Event Story Pack Pieces
[
]
These items are sold in packs that come with a Story Book for a particular event. The packs cost $2.99 USD each and can be found in the Story Book section of the guild status screen.
Purrismas 2016 Outfit Pack
Faces
Outfits
Weapon
Ice Eyes
Ice Princess
Ice Spear

Valentine 2017 Outfit Pack
Outfits
Weapons
Love Goddess
Amortina's Bow

Spring Festival 2017 Outfit Pack
Faces
Outfits
Paintbrush Face
Artist
Charity 2017 Outfit Pack
Outfits
Weapons
Charity Hero
Shuriken

Anniversary 2017 Outfit Pack
Faces
Outfits
Weapons
Scarred Face
Humble Knight
Dagger

Summer 2017 Outfit Pack
Extra
Outfits
Polly
Pirate

Halloween 2017 Outfit Pack
Outfits
Weapons
Rose's Dress
Umbrella

Purrismas 2017 Outfit Pack
Faces
Outfits
Rosy Cheeks
Purrismas Elf

Valentine 2018 Outfit Pack
Faces
Outfits
Smirk
Trimmed Cloak

Spring Festival 2018 Outfit Pack
Outfits
Weapons
Egyptian Noble
Jeweled Scepter

Call of Heroes 2018 Outfit Pack
Extras
Outfits
Floating Cat Head
Glowing Hero
Reputation Box Pieces
[
]
These items are included in the random reward pools in the Reputation chests. These pools expand with new items as the player's reputation level increases.
Faces
Mighty Lions
Reputation Level 10+
Whiskers
Reputation Level 10+
Zenpaws
Reputation Level 10+

Fur Patterns
Mighty Lions
Reputation Level 1+
Whiskers
Reputation Level 1+
Zenpaws
Reputation Level 1+

Outfits
Mighty Lions
Reputation Level 20+
Whiskers
Reputation Level 20+
Zenpaws
Reputation Level 20+
Mighty Lions
Reputation Level 30+
Whiskers
Reputation Level 30+
Zenpaws
Reputation Level 30+

Weapons
Mighty Lions
Reputation Level 15+
Whiskers
Reputation Level 15+
Zenpaws
Reputation Level 15+
Outfit Box Pieces
[
]
These items are acquired from the Outfit Box. Those marked with a gold star are considered rare.
Faces
Bright Eyes
Unimpressed Face
Wide-eyed Face

Cool Shades
Psychedelic Eyes

Fur Patterns
Poofy Tail
Pattern on White

Splotches on Black
Sphynx Skin

Extras
Alicorn Friend
Outfits
Hooded Cloak
Royalty
Purrmaid

Samurai
Ancient Noble
Alicorn

Royal Witch
Mane
Weapons
Glowing Staff
Floating Book
Paintbrush
Battle Axe
Epic Axe
Hatchet
Mecha Bow
Rosy Bow
Thorny Bow
VIP Pieces
[
]
These items are permanently acquired upon reaching the indicated VIP levels.
VIP Level 1+ (Uncommon)
Faces
Fur Patterns
Dragon Eyes
Spotted Big Cat

Outfits
Weapons
High Mage
Crystal Staff

VIP Level 2+ (Rare)
Faces
Fur Patterns
Pretty Eyes
Patterned Big Cat

Outfits
Weapons
Archangel
Glowing Orb

VIP Level 3+ (Epic)
Faces
Fur Patterns
Tails
Moth Eyes
Fanciful Tufts
Alternative Tail

Outfits
Weapons
Fluffy Moth
Moon Staff

VIP Level 4+ (Mythic)
Faces
Fur Patterns
Extras
Sorcerer Eyes
Spiky Dragon
Floating Crystals

Outfits
Weapons
Spiky Dragon Wings
Dragon Slayer

VIP Level 5+ (Legendary)
Faces
Fur Patterns
Dreamy Eyes
Dreamy Fur

Outfits
Weapons
Mystic Seer
Winged Book
Event Pieces
[
]
These items were first available in exchange for event materials during the indicated event. Many return in the reward pools of the Event Boxes as the associated event recurs. They are also sometimes sold for gems as Artifacts. Costs shown below are per variant.
Summer Event 2017
[
]
Outfits
Snorkelling
200 gems during event;
200 gems as Artifact
Beach Lounging
200 gems during event;
200 gems as Artifact
Beach Bro
200 gems during event;
200 gems as Artifact
Outfits (con't)
Weapons
Admiral
400 of each Summer material;
200 gems as Artifact
Saber
50 of each Summer material;
150 gems as Artifact
Halloween Event 2017
[
]
Faces
Fur Patterns
Vampiric
120 of each Halloween material;
100 gems as Artifact
Skeletal
200 of each Halloween material;
225 gems as Artifact
Extras
Halloween Bat
400 of each Halloween material;
200 gems as Artifact
Cauldron
400 of each Halloween material;
250 gems as Artifact
Cat Ghost
400 of each Halloween material
(An additional variant
was available in the
Halloween Event 2020)
Outfits
Tuxedo Cloak
300 of each Halloween material;
200 gems as Artifact
Maid Outfit
300 of each Halloween material;
200 gems as Artifact
Witch Hat & Collar
300 of each Halloween material;
200 gems as Artifact

Reaper Cloak
300 of each Halloween material
Doll Outfit
300 of each Halloween material;
225 gems as Artifact
Weapons
Feather Duster
100 of each Halloween material
150 gems as Artifact
Scythe
100 of each Halloween material
"Purrismas is Coming" Event
[
]
Outfits
Weapons
Fur-Collared Cloak
300 of each "Purrismas is Coming" material
200 gems as Artifact
Spiked Hammer
150 of each "Purrismas is Coming" material
150 gems as Artifact
Purrismas Event 2017
[
]
Outfits
Fur-Collared Cloak
200 of each Purrismas 2017 material
200 gems as Artifact
Winter Accessories
300 of each Purrismas 2017 material
200 gems as Artifact
Ice Queen
300 of each Purrismas 2017 material
200 gems as Artifact
Weapons
Sandy Claws' Ice Staff
(or is it...?)
150 of each Purrismas 2017 material
175 gems as Artifact
Ice Bow and Arrows
150 of each Purrismas 2017 material
150 gems as Artifact
Ice Staff
150 of each Purrismas 2017 material
150 gems as Artifact
Spiked Hammer
100 of each Purrismas 2017 material
150 gems as Artifact
Mew Year's Eve 2017
[
]
Outfits
Eve's Dress
4 gold nuggets, 250 cloth and 6 silk
200 gems as Artifact
Gatsby's Tuxedo
4 silk, 250 cloth and 6 gold nuggets
200 gems as Artifact
Valentine Event 2018
[
]
Faces
Fur Patterns
Extras
Loving Eyes
150 of each Valentine material
100 gems as Artifact
Solid
(Included in-game with other
"Solid" patterns; see
Guild Level Unlock Pieces)
200 of each Valentine material
200 gems as Artifact
Floating Heart
300 of each Valentine material
225 gems as Artifact

Outfits
Weapons
Charmer's Coat
300 of each Valentine material
225 gems as Artifact
Romeo's Coat
300 of each Valentine material
225 gems as Artifact
Love Bow
150 of each Valentine material
150 gems as Artifact
Spring Festival 2018
[
]
Faces
Florinda's Eyes
150 of each Spring material
75 gems as Artifact
Nolan's Eyes
150 of each Spring material
75 gems as Artifact
Extras
Flying Egg
300 of each Spring material
200 gems as Artifact
Bee Buddy
400 of each Spring material
200 gems as Artifact
Outfits
Easter Bunny
400 of each Spring material
225 gems as Artifact
Tomb Raider
300 of each Spring material
200 gems as Artifact
Flower Crown
300 of each Spring material
200 gems as Artifact
Weapons
Flower Bow
150 of each Spring material
150 gems as Artifact
Call of Heroes 2018
[
]
Faces
Extras
Evil Grin
150 of each Call of Heroes material
75 gems as Artifact
Superhamster
400 of each Call of Heroes material
200 gems as Artifact
Outfits
Weapons
Superhero
300 of each Call of Heroes material
200 gems as Artifact
Elvis is Back
300 of each Call of Heroes material
200 gems as Artifact
Masked Blade's Sword
150 of each Call of Heroes material
175 gems as Artifact
Charity Event 2018
[
]
Faces
Fur Patterns
Alluring Eyes
150 of each Charity material
75 gems as Artifact
Spots
200 of each Charity material per color
(each color includes three tail types)
200 gems as Artifact
Bubbles' Fur
200 of each Charity material
175 gems as Artifact
Extras
Outfits
Bouncing Hamster
400 of each Charity material
200-225 gems as Artifact
Neck Bow
300 of each Charity material
175 gems as Artifact
Evening Gown
300 of each Charity material
200 gems as Artifact
Weapons
Staff of Love
150 of each Charity material
150 gems as Artifact
Microphone
150 of each Charity material
150 gems as Artifact
Halloween Event 2018
[
]
Faces
Fur Patterns
Glowing Eyes
200 of each Halloween material
75 gems as Artifact
Ghostly Fur
250 of each Halloween material per color
(each color includes two tail types)
225 gems as Artifact
Outfits
Weapons
Vampire Slayer
300 of each Halloween material
225 gems as Artifact
Hilda's Witch Cape
300 of each Halloween material
200 gems as Artifact
Pumpkin Staff
150 of each Halloween material
150 gems as Artifact
Purrismas Event 2018
[
]
Fur Patterns
Extras
Snow Leopard
250 of each Purrismas material
225 gems as Artifact
Penguin
400 of each Purrismas material
400 gems as Artifact
Outfits
Winter Hoody
300 of each Purrismas material
225 gems as Artifact
Winter Coat
300-350 of each Purrismas material
175 gems as Artifact
Mew Year's Eve 2018
[
]
Outfits
New Year Masquerade
300 of each Purrismas material
225 gems as Artifact
New Year Butterfly
300 of each Purrismas material
225 gems as Artifact
Valentine Event 2019
[
]
Faces
Fur Patterns
Extras
Captivating Eyes
150 of each Valentine material
75 gems as Artifact
Heart on your Hip
200 of each Valentine material
Love Hamster
400 of each Valentine material
400 gems as Artifact
Outfits
Weapons
Ancient Greece
300 of each Valentine material
200 gems as Artifact
Sword of Love
150 of each Valentine material
150 gems as Artifact
Spring Festival 2019
[
]
Faces
Outfits
Stern Eyes
150 of each Spring material
75 gems as Artifact
Spring Queen
300 of each Spring material
200 gems as Artifact
Jackalope
300 of each Spring material
200 gems as Artifact
Weapons
Rose Staff
150 of each Spring material
150 gems as Artifact
Summer Event 2019
[
]
Faces
Fur Patterns
Outfits
Fish Eyes
150 of each Summer material
75 gems as Artifact
Shark Tail
200 of each Summer material
200 gems as Artifact
Gills Galore
300 of each Summer material
225 gems as Artifact
Anniversary Event 2019
[
]
Faces
Fur Patterns
Extras
Dio's Eyes
150 of each Anniversary material
75 gems as Artifact
Royal Fur
200 of each Anniversary material
200 gems as Artifact
Butterfly
400 of each Anniversary material
400 gems as Artifact

Outfits
Weapons
Winged Cape
300 of each Anniversary material
200 gems as Artifact
Royal Wrap
300 of each Anniversary material
200 gems as Artifact
Glowing Orb Sword
150 of each Anniversary material
150 gems as Artifact
Halloween Event 2019
[
]
Faces
Fur Patterns
Adriel's Eyes
200 of each Halloween material
75 gems as Artifact
Pointy Tail Fur
250 of each Halloween material
200 gems as Artifact
Stitch Fur
250 of each Halloween material
Event Badge reward (BL)
200 gems as Artifact

Outfits
Cow/Unicorn Costume
300 of each Halloween material
200 gems as Artifact
Dragon Wings
300 of each Halloween material
225 gems as Artifact
Vampire Cloak
300 of each Halloween material
Event Badge reward (WH)

Weapons
Bat Staff
150 of each Halloween material
150 gems as Artifact
Purrismas Event 2019
[
]
Faces
Fur Patterns
Extras
Eye Shadow
200 of each Purrismas material
75 gems as Artifact
Winter White Paws and Tail
250 of each Purrismas material
200 gems as Artifact
Kitty Spirit Guide
400 of each Purrismas material
Event Badge reward (MU)
400 gems as Artifact

Outfits
Ice Skating Dress
300 of each Purrismas material
Event Badge reward (MU)
200 gems as Artifact
Fancy Scarf and Winter Beret
300 of each Purrismas material
200 gems as Artifact
Valentine Event 2020
[
]
Faces
Fur Patterns
Extras
Arrogant Eyes
150 of each Valentine material
Hearty Fur
200 of each Valentine material
Owl
400 of each Valentine material
Event Badge reward (MU)
Outfits
Gala Suit
300 of each Valentine material
Event Badge reward (WH)
Gala Dress
300 of each Valentine material
Spring Festival 2020
[
]
Fur Patterns
Extras
Florence's Fur
250 of each Spring material
Hummingbird
400 of each Spring material
Bluebird
Event Badge reward
Outfits
Weapons
Feathery Armor
300 of each Spring material
Event Badge reward (BK)
Fairy Wings
300 of each Spring material
Boar Axe
150 of each Spring material
Call of Heroes 2020
[
]
Faces
Fur Patterns
Extras
Mequa's Eyes
150 of each Call of Heroes material
Ice Spots
250 of each Call of Heroes material
Evil Minion
400 of each Call of Heroes material
Event Badge reward (BL)

Outfits
Weapons
Metallic Wings
300 of each Call of Heroes material
Event Badge reward (BL)
Trident
200 of each Call of Heroes material
Summer Event 2020
[
]
Faces
Fur Patterns
Extras
Sunglasses
150 of each Summer material
Sundae's Fur
250 of each Summer material
Jumping Kangaroo
400 of each Summer material
Event Badge reward (MU)
Outfits
Weapons
Swimsuit
300 of each Summer material
Swim Tube
300 of each Summer material
Event Badge reward (MU)
Ice Cream
200 of each Summer material
Halloween Event 2020
[
]
Faces
Extras
Ace's Face
150 of each Halloween material
Lune's Broom
400 of each Halloween material
Fanged Ghost
Event Badge reward
(Included in-game with
"Cat Ghost" from the
Halloween Event 2017)

Outfits
Lune's Witch Cloak
300 of each Halloween material;
Event Badge reward (BL)
Ghosthunting Gear
300 of each Halloween material
Weapons
Egyptian Staff
200 of each Halloween material
Jack-o'-lantern Wand
200 of each Halloween material
Purrismas Event 2020
[
]
Faces
Fur Patterns
Extras
Starglow Eyes
150 of each Purrismas material
Starry Fur
250 of each Purrismas material
Yule's Bird
400 of each Purrismas material
Event Badge reward (MU)
Outfits
Hooded Winter Dress
300 of each Purrismas material
Event Badge reward (MU)
Winter Cap and Scarf
300 of each Purrismas material
Santa Suit
Advent Calendar completion reward
Weapons
Gingerbread Sword
200 of each Purrismas material
Christmas Tree Sword
200 of each Purrismas material
Valentine Event 2021
[
]
Faces
Fur Patterns
Heartfelt Eyes
150 of each Valentine material
Swirls & Ear Hearts Fur
300 of each Valentine material per variant
(each variant includes three tail types)

Outfits
Weapons
Frilly Dress
350 of each Valentine material
Event Badge reward (P)
Funky Anime Suit
300 of each Valentine material
Crooked Spear
200 of each Valentine material
Event Badge reward (P)
Lunar New Year 2021
[
]
Extras
Rampaging Ox
400 Lunar New Year materials and 50,000 coins
Spring Festival 2021
[
]
Faces
Fur Patterns
Doe Eyes
150 of each Spring material
Spotted Deer Fur
250 of each Spring material
Event Badge reward (GN)

Outfits
Weapons
Gardener
300 of each Spring material
Floral Cape
300 of each Spring material
Event Badge reward (MU)
Gardening Spade
200 of each Spring material
Call of Heroes 2021
[
]
Extras
Outfits
Flying Turtle
400 of each Call of Heroes material
Event Badge reward (BK)
Tracksuit
300 of each Call of Heroes material
Event Badge reward (P)
Masked Bandit
300 of each Call of Heroes material
Weapons
Scooter
200 of each Call of Heroes material
Musical Keyboard
200 of each Call of Heroes material
Anniversary Event 2021
[
]
Faces
Fur Patterns
Extra
Fafnir's Face
150 of each Anniversary material
Gem-Studded Fur
250 of each Anniversary material
Sparkly Rainbow
Event Badge reward
Outfits
Weapons
Spelunker
300 of each Anniversary material
Event Badge reward (MU)
Cavalier
300 of each Anniversary material
Grappling Hook
200 of each Anniversary material
Summer Event 2021
[
]
Faces
Extras
Happy-go-lucky Face
150 of each Summer material
Dancing Crab
400 of each Summer material
Event Badge reward (Y)
Outfits
Weapons
Wayfarer's Garb
300 of each Summer material
Event Badge reward (BK)
Sailor Suit
300 of each Summer material
Anchor
200 of each Summer material
Halloween Event 2021
[
]
Faces
Fur Patterns
Snake Face
150 of each Halloween material;
Event Badge reward (Y)
Scruffy Fur
250 of each Halloween material;
Event Badge reward (WH)
Outfits
Hooded Costume
300 of each Halloween material
Mushroom Ensemble
300 of each Halloween material
Angel Robe (WH)
Event Pass Exclusive
Devil Dress (R)
Gold Pass Exclusive
Weapons
Candelabra
200 of each Halloween material
Purrismas Event 2021
[
]
Extras
Hedgehog
400 of each Purrismas material
Outfits
Ski Jacket
300 of each Purrismas material
Event Badge reward (P)
Caroling Dress
300 of each Purrismas material
Ice Fairy (BL)
Event Pass Exclusive
Reindeer (R)
Gold Pass Exclusive
Weapons
Snow Skis
200 of each Purrismas material
Event Badge reward (P)
Songbook
200 of each Purrismas material
Mew Year's Eve 2021
[
]
Outfits
Party Hat
300 of each Purrismas material
Valentine Event 2022
[
]
Faces
Furs
Disapproving Face
150 of each Valentine material
Heart Tattoo
200 of each Valentine material
Outfits
Sophisticated Dress
300 of each Valentine material;
Event Badge reward (BK)
Checkered Cape
300 of each Valentine material
Love Bug (R)
Event Pass Exclusive
Valentine Goddess (WH)
Gold Pass Exclusive